Pakistan keen to work with Azerbaijan to eliminate energy shortages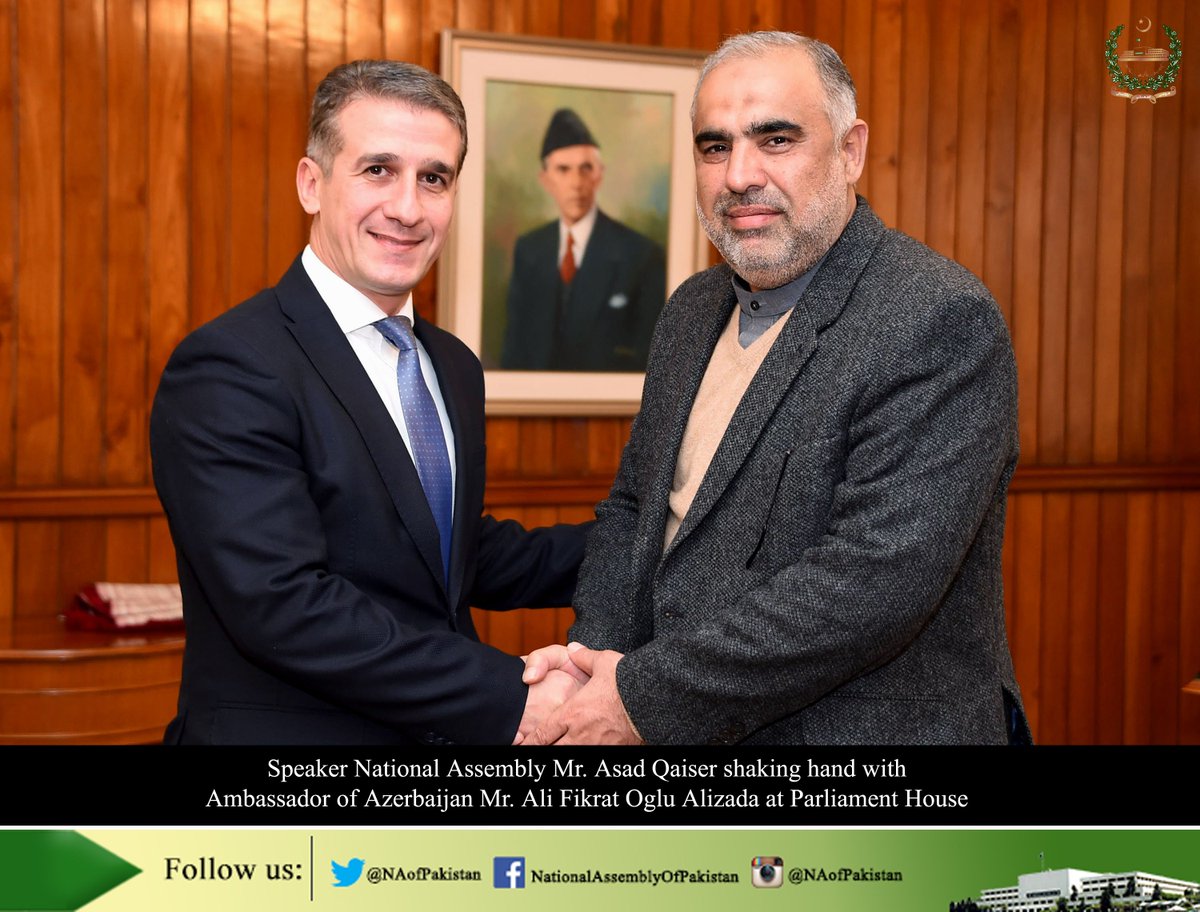 The Speaker National Assembly Asad Qaiser has said that the government of Pakistan is keen to work with Azerbaijan to eliminate energy shortages, the Dispatch News Desk (DND) News Agency reported.

Talking to the Ambassador of Azerbaijan Ali Fikrat Oglu Alizada who met him at Parliament House in Islamabad on Thursday and exchanged views on besides bilateral relations issues of mutual interest, Asad Qaiser said that both Pakistan and Azerbaijan are knotted in eternal relationship of brotherhood and friendship.
The speaker said that there exists a number of opportunities for both brotherly countries to increase their bilateral cooperation in the fields of economy, defence and telecommunication. He said that the two countries also have a huge potential to augment their bilateral trade.
Asad Qaiser said that Parliamentarians of Pakistan and Azerbaijan can play a key role in bringing the people of both the countries closer to each other.
The speaker national assembly also lauded the support of Azerbaijan to Pakistan over Kashmir issue in regional and international forums.
In addition, Asad Qaiser extended an invitation to his Azerbaijan's counterpart to visit Pakistan.
The Azerbaijan's ambassador said that his country highly values its diplomatic relationship with Pakistan, and wants to further strengthen it.
Ali Alizada said that Azerbaijan's leadership desires to further promote bilateral trade cooperation with Pakistan as well as in the economic and social fields.
The ambassador said that regular exchange of parliamentary delegation between the two countries would help to promote mutual harmony.
The Azerbaijan's ambassador also invited Asad Qaiser to visit Baku on behalf of the Azerbaijani Parliament Speaker.
The source: dnd.com.pk